Welcome to CyprusCompaniesPortal.com, your onestop shop for registering and managing a Cyprus company.!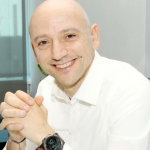 My name is Christophoros Christophi and I am the managing partner of Christophi & Associates LLC, the law firm that operates this website.
You can find our more about myself and our law firm at the end of this page as well as read some of our esteemed client's testimonials.
You can now register your  Cyprus company take advantage of our limited time offer of €1200 plus VAT (19%) covering all incorporation costs.
Incorporation is easy, straightforward and your presence in Cyprus is not required.
Start right now  by completing the online form below. I  will get back to you with all the required information and answer to your questions the soonest possible.
Email: chris@lawyer.com.cy
Telephone:  00357 22 45 62 50
Fax: 00357 22 66 22 15
A few words about us.
I started my career in 1996 and registered as a practicing advocate in 1997. In 2001 I established my own law firm which in 2009 was named Christophi & Associates LLC.
You can read more about me at ChristophorosChristophi.com and more about Christophi & Associates LLC at www.lawyer.com.cy
Having an active interest in Cyprus company law both as a lawyer and as academic lecturer, I built www.CyprusCompaniesPortal.com to provide free information about the regime that governs Cyprus companies. So irrespective of whether you are registering a Cyprus company or not, this website will give you a lot of information and guidance for free!
Our corporate team is made of experts in the field including accountants, auditors and administrators. We offer our clients tailor made solutions, tax planning that is bullet proof and most importantly we are discreet and trustable.
Our client testimonials speak for themselves. Read some below and more on my LinkedIn Profile.


David Dowse, Managing Director at Dowse Communications – https://teamdowse.com/

Meanwhile, please take the time to browse our website and read in depth articles about the regime that governs Cyprus companies as regards, set up, management and taxation.
You will find particularly useful the following links:
If you have any questions do not hesitate to drop me an email at chris@lawyer.com.cy